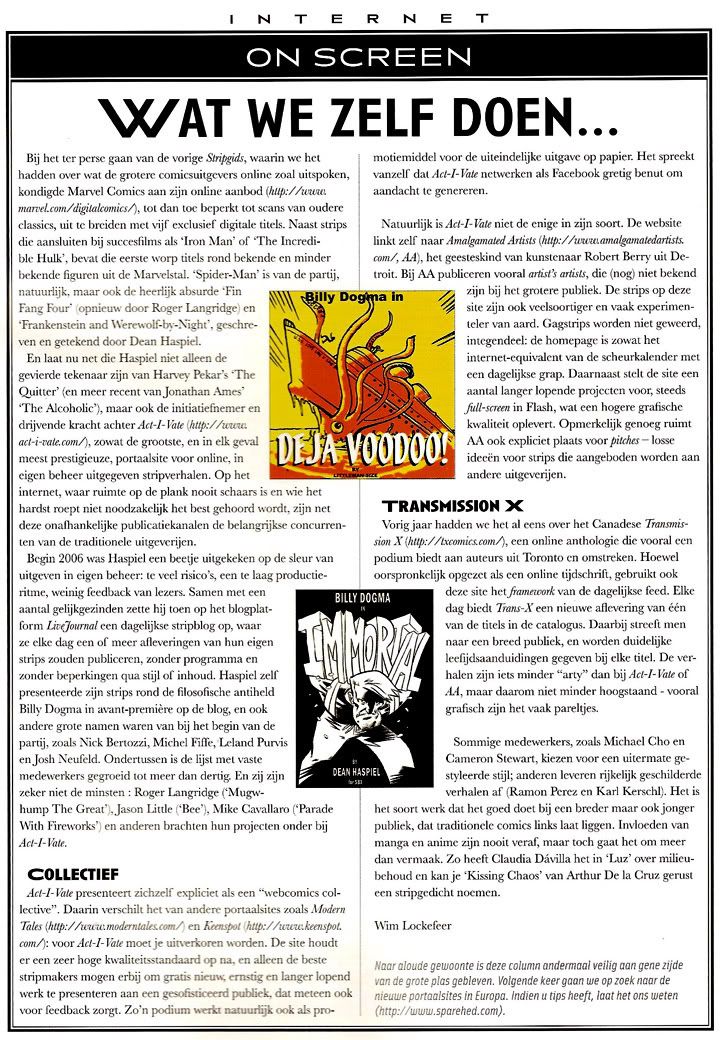 ENGLISH TRANSLATION [provided by the author]:

If we do it ourselves...
by Wim Lockefeer for Stripgids #12

About the time when the previous Stripgids was published, in which we talked about what the larger comics publishers were doing online, Marvel Comics announced that it extended its online offerings (http://www.marvel.com/digitalcomics/), hitherto limited to scans of older classics, by five exclusive digital titles. Besides strips that linked to major films like Iron Man or Incredible Hulk, this first batch solely contains titles featuring famous and lesser-known figures from the Marvel stable. Spider-Man is there, of course, but also the deliciously absurd Fin Fang Four (again by Roger Langridge) and Frankenstein and Werewolf-by-Night, written and drawn by Dean Haspiel.

This Haspiel turns out to be not only the celebrated illustrator of Harvey Pekar's The Quitter (and more recently of Jonathan Ames' The Alcoholic), but also the initiator and driving force behind Act-I-Vate (http://www.act-i-vate.com /), arguably the largest (and, in any case most prestigious) portal for online, self-published comics. On the Internet, where shelf space is never scarce and the loudest voices are not necessarily heard the most, independent outfits like this one are the main competitors of the traditional publishers.

In early 2006 Haspiel was a bit disappointed in the practice of self-publishing : too many risks, a low production rate, too little feedback from readers. Together with a number of like-minded people he started a daily comic blog on the LiveJournal platform. Every day they would publish one or more episodes of their own strips, without program and without restrictions in terms of style or content.

Haspiel presented his own comics with the philosophical anti-hero Billy Dogma in avant-premiere on the blog, and also other big names were present from the beginning, such as Nick Bertozzi, Michel Fiffe, Leland Purvis and Josh Neufeld. Since then, the list of more or less permanent contributors has grown to more than thirty. And they are certainly not the least: Roger Langridge (Mugwhump The Great), Jason Little (Bee), Mike Cavallaro (Parade With Fireworks) and others brought their projects to Act-I-Vate.

Collective

Act-I-Vate presents itself explicitly as a "webcomics collective". It differs from other portals such as Modern Tales (http://www.moderntales.com/) and KeenSpot (http://www.keenspot.com/): you need to be elected to join Act-I-Vate. The site maintains a very high standard of quality, and only the best cartoonists can present new, serious and longer work free of charge to a sophisticated audience which also provides feedback. A podium like this naturally also works as a promotion tool for an eventual edition on paper. And it goes without saying that Act-I-Vate eagerly exploits social networks such as Facebook to generate exposure.

Of course ACT-I-Vate is not the only one of its kind. The website links to Amalgamated Artists (http://www.amalgamatedartists.com/), the brain child of artist Robert Berry from Detroit. It would seem that at AA mainly artist's artists have found shelter, creators who are not (yet) known to the wider public. The strips on this site are also more diverse and quite often experimental in nature. Gag strips are welcomed here, and the homepage is somewhat of the Internet equivalent of a diary with a daily joke. In addition, the site hosts a number of longer-term projects, presented full-screen in Flash, which results in higher-quality graphics. Interestingly enough AA also explicitly reserves some screen real estate for pitches - loose ideas for strips that are offered to other publishers.

Transmission X

Last year we had already mentioned the Canadian website Transmission X (http://txcomics.com/), an online anthology which offers a platform for authors from Toronto and environs.

Although originally conceived as an online magazine, this site also uses the framework of the daily feed. Each day Trans-X offers a new episode of one of the titles in the catalog. It caters to a wide audience, and clear age pointers are added to each title. The stories are slightly less arty than in Act-I-Vate, but by no means do they lack in quality, especially when it comes to the graphics.

Some contributers, such as Michael Cho and Cameron Stewart, opt for a highly stylized style, others deliver richly painted stories (Ramon Perez and Karl Kerschl). It is the kind of work that is doing well with a broader audience but also to a younger public, which seems to have left traditional comis. Influences of manga and anime are never far away, but the result is more than mere entertainment. In her strip Luz for example, Claudia Dávilla writes about environmental conservation, and Kissing Chaos by Arthur De la Cruz can easily be called a poem in comic format.

As ever, we remained safely at the other side of the pond in this column. Next time we will investigate new comics portals in Europe. If you have tips, please let us know (http://www.sparehed.com). Praise and criticism are also welcome.